Welcome to Village Greens
Miniature Golf of Strasburg, PA!

The Village Greens combines the challenge of golf with the natural beauty of lush gardens to create a unique recreation experience for all generations to enjoy together! Our two courses cover over 13 acres of beautiful countryside which has been enhanced with shrubbery and flowers. The courses change as the season progresses: from thousands of yellow daffodils in spring, to a bountiful variety of colorful annuals in mid summer, to the vibrant fall foliage.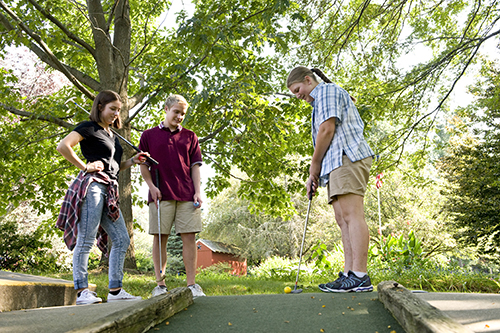 The Orange course is the more traditional of the two courses with a covered bridge, cave, and even a tobacco shed. The highly acclaimed Gold course provides a multitude of natural obstacles in a mature wooded setting. The existing hillside was intertwined with dramatic waterways to create a babbling backdrop for the spectacular landscaping which rivals any public gardens. We assure you that we are not a typical miniature golf course! For the fifth consecutive year, the Village Greens has been voted the #1 miniature golf course in Lancaster County by readers of Lancaster County Magazine! Whether you just want to have fun with family and friends or practice your putting skills, our courses will provide you with the enjoyment and challenges you are seeking.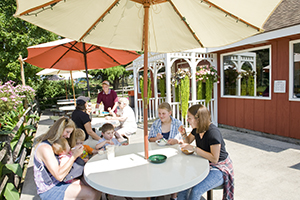 The Snack Bar with both air-conditioned seating and an outside patio provides the ultimate in a relaxed atmosphere. Old-fashioned milk shakes, hand dipped ice cream, soft drinks, assorted sandwiches and french fries are available to satisfy your appetite.
Located in the Pennsylvania Dutch Country just west of the historic borough of Strasburg on Route 741, Village Greens invites visitors to the area to "Play A Round With Us."
Don't Forget . . .Ask for your Village Greens punch ticket.  Play 10 games and receive 1 game free!